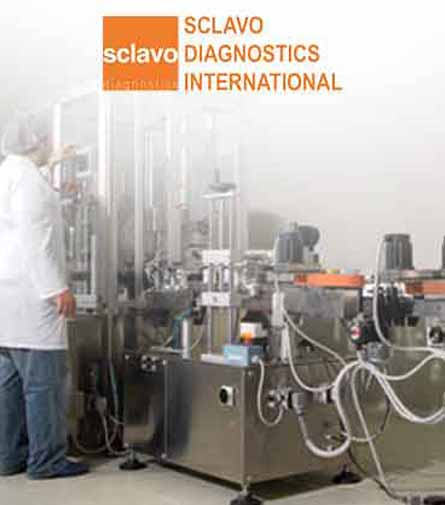 .
The in vitro diagnostic (IVD) space is one of constant change and innovation. Whether it is instruments, reagents, or testing methodologies, clinical laboratories and medical device manufacturers engaged in IVD testing have to constantly be on their toes to catch up to evolving trends in the industry. In such a rapidly shifting space, companies looking to stay ahead of the curve have to up their research game by devising novel and efficient testing products and solutions.
Coming into the clinical testing space active in research, development, production and marketing of diagnostic kits is SCLAVO Diagnostics International. Named after the legendary Italian scientist and researcher Achille Sclavo, who discovered the antidote serum for anthrax, this Sovicille, Italy-based diagnostic company contributes to the legacy of its namesake by developing diagnostics reagents and instruments for IVD testing. Founded in 1992, SCLAVO leverages its long-standing expertise and technical know-how to offer its products in compliance with the existing laws and regulations in accordance to international requirements. Adhering to these strict quality controls helps SCLAVO perform IVD testing certification by identifying and adopting the most suitable solutions to enhance their clinical instruments and reagents.
SCLAVO's IVD testing is grounded in clinical chemistry, specific and urinary proteins, serology, coagulation, immunology and bacteriology.
Responding to growing demands for standardization in analytical and diagnostic quality in the coagulation system, SCLAVO offers a new line of reagents devoted to the study of hemostasis, along with a complete set of kits for routine and special tests to clinical labs. All the reagents have barcode labels and are available in a variety of packaging, allowing each laboratory to select the most appropriate kit for their workload.

Displaying high quality, SCLAVO's products show great results in terms of linearity, calibration stability, reagent on-board stability and analytical sensitivity. SCLAVO's coagulation instruments, or coagulators KOS 1 and KOS 2 comprise of one and two channel coagulation systems respectively. It's worth mentioning that SCLAVO's line of reagents has been optimized on Sysmex coagulometers CA500, 1500, 7000 and CS2100 and 5100.

Going into diagnostic instrumentation, the SCLAVO Palio system is a family of three fully automated clinical chemistry analyzers equipped with barcode readers for samples and reagents. With installed ISE modules, SCLAVO Palio 100, SCAVO Palio 200N, and SCAVO Palio 300 can go up to 180, 360, and 500 high-quality sample tests per hour, respectively.

Apart from these, SCLAVO also offers custom services like lyophilization, which is a dehydration process used to preserve a perishable material or make the material more convenient for transport. Other services include fermentation of bacterial cultures to facilitate separation and concentration of secreted proteins and the development of highly standardized immunization protocols for obtaining antidote serum.

Starting with the purchase of raw materials and continuing through the preparation procedures to the finished goods, SCLAVO's entire production cycle is managed and monitored in-house. Large investment initiatives for new product development keep its cutting-edge equipment updated on a regular basis. SCLAVO's state-of-the-art labs for quality control possess instruments for testing control and product development. The Biosafety Level 3 (BL3) Laboratory is designed to handle pathogenic microorganisms up to "class 3", and is equipped with biohazard cabinets, incubators, centrifuge machines, ultra-freezer, and a decontamination autoclave. The validation lab contains validated analytical systems that are used as references for tests requiring international protocol clearances.

SCLAVO is also an excellent choice for bulk reagents kit supplying. Taking into account the unique product and packaging needs of customers, SCLAVO provides options for both OEM and Private Label delivery. Such bulk production supplying capabilities, along with specialized lab facilities, further contribute to enhanced testing, analyzing and reporting abilities. And coupled with a plethora of clinical diagnostic testing products on offer, SCLAVO Diagnostics will continually develop innovative products to cement its position as a formidable force in the IVD industry.