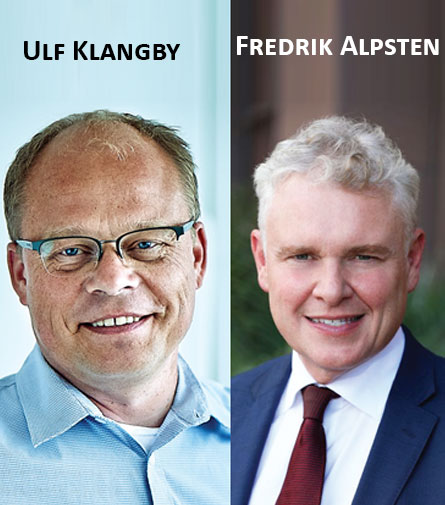 Ulf Klangby, founder and COO & Fredrik Alpsten, CEO
Following the introduction of next-generation sequencing (NGS), the world of medical diagnostics and clinical research witnessed a significant improvement in its ability to obtain genomic sequencing results. The new technology empowered professionals with expedited turnaround times at considerably lowered costs. NGS paved the way for biotechnology companies and laboratories to leverage genomic sequencing in clinical practice; the innovation later broke ground in the realm of diagnostic tools as well.
By further examining this intuitive and promising technology, three colleagues who worked at a diagnostic solutions company in 2004, decided to build upon it and develop a product that eliminates the long turnaround time of test results in prenatal diagnostics. The reason that motivated them to invent the device revolved around the fact that they all were expecting fathers who were thoroughly frustrated at the legacy systems used by hospitals. And they also concluded that having to wait so long for prenatal test results was not at all comfortable for anxious, expecting parents. Thus, the three established Devyseras a means to provide labs and researchers with the best diagnostic kits for complex DNA testing, specialising in the areas of oncology, hereditary diseases, and transplantation. With their first product, a rapid prenatal diagnostic test based on molecular biology and PCR techniques, labs experienced super-fast turnaround times—from the industry standard of three weeks to a much quicker five hours.
In an interview with MD Tech Review, Ulf Klangby, founder and COO, and Fredrik Alpsten, CEO of Devyser, provide their insights into the latest developments in NGS technology and elaborate on how their company is leading the charge in the current marketplace.
How does Devyser ease the adoption of NGS technologies?
Klangby:
When genetic laboratories first showed interest in implementing NGS technologies into their workflow, they were frustrated with how unexpectedly difficult the process became. There were many tedious protocols to follow. So, we started to identify more rapid and easier protocols for any NGS library preparation. Focused on streamlining the processes of routine diagnostic labs, we began catering to a niche market.
In order to use NGS technologies for diagnostic purposes, we realised that it had to be simple, reproducible, and less prone to user-generated errors. One of the most important aspects is its ability to perform sample preparation steps in a single tube. Many commercial library preparation protocols typically require researchers to split patient samples into several different reactions during analysis. However, after studying the technology, we concluded that this level of complexity was not appropriate for routine diagnostics. Instead, we developed a technology that enables labs to perform the test in a single tube. The resulting process proved to be much faster by reducing the hands-on time from days to 45 minutes.
We have empowered labs with the ability to follow each patient after a transplantation to observe for any rejection or relapse and begin early interventions
Alpsten:
Our latest innovations combine chemistry with software to create a major difference in patient management. This includes the possibility of personalising treatments based on a patient's detailed genetic information. The technology is exceptionally ideal for companion diagnostics and personalised medicine. Another new area of application for us is posttransplant patient monitoring, where Devyser's products allow much earlier detection of relapse and rejection than current methods. Early detection increases the chance of saving a transplanted organ and avoiding any re-transplantation situations.
Please elaborate on your DNA sequencing capabilities.
Klangby:
Nearly over a decade ago, DNA sequencing technology was prohibitively complex and costly. However, the technology today has been completely transformed: from slow and very expensive to fast and cost-effective. It can now be used to test and measure genetic information that was previously very laborious and now is more accessible to most labs. These technological advancements will make personalised and proactive medicine easily available to everyone. It is also instrumental for the prescription of both new and established drugs that can be incredibly effective when administered to the right patients at the right time. We also leverage information from therapy interventions to select the correct medicines for each specific patient.
Alpsten:
One of our newer technologies focuses on using liquid biopsies in posttransplant patient monitoring. This type of testing is interesting because it helps the treatment become better, simpler, and cheaper for hospitals to manage a lifelong monitoring process in a commercial capacity. The new technology is minimally invasive and, since no biopsies from the transplanted organ are required, it is suitable for continuous monitoring. This enables much earlier detection of rejection or relapse compared to currently employed practices and solutions. The diagnostic kits that we have developed are easy to implement, learn, use, and maintain, which significantly reduces a researcher's workload in laboratories. Our products help streamline workflows, reduce the risk of manual errors, and significantly speed up turnaround times.
Where does Devyser's diagnostic expertise shine?
Klangby:
We are active in three different market segments; namely: oncology, hereditary diseases, and transplantation. Our oncology products are extremely important when labs utilise new drugs that target specific genetic alterations in tumours. In order to have a successful clinical study, when you try to introduce these drugs to a subject, it is critical to ensure that the patient population carries a specific mutation. Otherwise, there will be no effect from the drug. But if researchers target patients with the right mutations, more often than not, they witness a dramatic improvement in their cancer treatment processes. Our solutions for companion diagnostics excel at driving results in this market segment. The post-transplant monitoring segment of the company is the latest addition to our portfolio and has opened many avenues for better patient care. The Devyser Chimerism for NGS supports labs with a single, simple protocol for quick and trustworthy chimerism measurement and monitoring in a patient.
Klangby:
We have empowered labs with the ability to follow each patient after transplantation to observe for any rejection or relapse and begin early interventions. Legacy systems were typically designed to focus on flare-ups, which is a prolonged process and leads to much slower response times. Our NGS and liquid biopsies-based technology help clinicians and labs to be very preventative in their approach to treating each patient.
What do the next few years have in store for Devyser?
Alpsten:
The areas of post-transplant monitoring will continue to be an exciting opportunity as we hold our position on the front line of diagnostics. Our products and NGS technologies enable professionals to conduct preventative diagnostics and personalised medicine in a revolutionary way—for stem cell, bone marrow, and organ transplants as well. We also have developed a product to improve diagnostics for thalassemia, which normally is a challenge for labs. Our solution allows researchers to conduct tests in one, single tube.
Klangby:
The Single tube Thalassemia kit offers complete NGS analysis of HBA1, HBA2, and HBB in just one run. It is a game-changing product and carries significant importance to help people in countries across the globe. And as we move forward, our motive will always remain to distinguish ourselves from competitors by developing products that meet the needs of routine diagnostic laboratories. Results must be fast and easy to interpret.